WE HAVE A VAST RANGE OF PRINTING PROCESSES AT OUR FINGER TIPS

TO MAKE PRINTING ON ALL YOUR PRODUCTS POSSIBLE
OUR IN HOUSE PRINTING SERVICES
Silkscreen Printing
At R&JP we are continuously pushing the possibilities and increasing the potential of silkscreen printing. With a winning combination of experienced expert printers and state of the art silkscreen printing equipment we are able to print on array of products and materials.

Learn More
Tampo/Pad Printing
We have the best printers in the industry and array of tampo machines to turn your orders around not just fast but also to industry leading print quality. We have the knowledge and experience of 45 years in the industry and can achieve what others can't. Want a multi-colour print? no problem just come to us!

Learn More
Transfer Printing
This new and exciting method of printing has pushed the possibilities of full colour printing. We can now create a photo quality transfer and apply it to virtually any material in any shape. Our transfers create an attractive high definition print and have a highly durable finish that lasts.

Learn More
Digital Inkjet Printing
We can digitally print directly onto an almost unbelievable range of materials, products and substrates. This method of printing is great for applying full colour designs with outstanding print quality.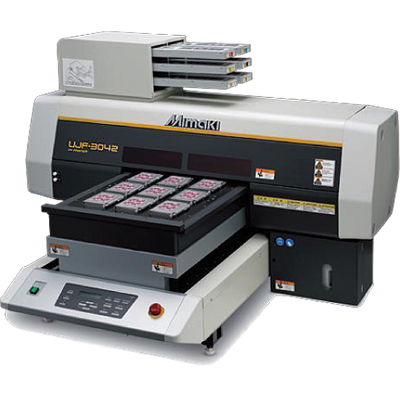 Learn More
Laser Engraving
Laser engraving is great for permanently marking an item. The laser is used to place company logos and information on a variety of items rapidly. Many thousands of parts can be marked in a very short time.

Learn More
Foil Blocking / Embossing
Foil blocking / embossing can give a 2 dimensional image a 3rd dimension. From dairies to napkins we can foil block your products with a prestigious print in a variety of foil colours or blind embossed.

Learn More
MATERIALS THAT WE CAN PRINT
PRODUCTS THAT WE CAN PRINT
© R&JP International 2022